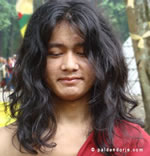 After an email and a comment from Andy about Ram Bomjon – Palden Dorje Google Groups, I checked for recent news about him. There're interesting discussions going on in Google Groups, I found Ram's official web site where videos of his addresses are posted, here's his First Address (August 2 2007), and the Second one (october 19 to 24, 2007). Someone has even created a myspace page for him (currently he has 1671 friends).
His first message was for peace to the world.
Murder, violence, greed, anger and temptation has made the human world a desperate place. A terrible storm has descended upon the human world, and this is carrying the world towards destruction. There is only one way to save the world and that is through 'dharma" (religious practice.) When one doesn't walk the righteous path of religious practice, this desperate world will surely be destroyed. Therefore, follow the path of religion and spread this message to your fellows.
when you read the translation of his message it is very powerful, but listening to his speech in Nepali was not that great. To me it sounded like a teenager trying to deliver a memorized speech. The second video was another attempt…, It was clear that either he was reading the speech or was another memorized one.
Having that said, I still think he's very special and is up to something but the whole spectacle that organizers are trying to create around him and make him a great guru before he becomes one is just wrong and sad.
Let me know what you think!