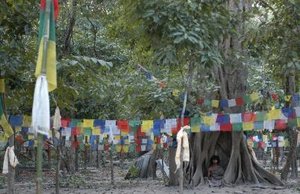 UWB has posted a recently taken photo of Ram's mother and sister in No News of Buddha boy but the life goes on…
A significant number of users land in my blog searching for the keywords "buddha boy", "meditating boy", "boy with extraordinary powers", "the boy with divine powers", "buddha boy update", "ram bahadur bomjon" and so on… The recent airing of My Shocking Story: The Boy With Divine Powers by Discovery Channel has taken this story to the wider audience. Now more people know about him and are curious about where he might be. Looking at the comments of visitors and emails that I received, I can see there are 4 types of people following his story.
The first type of people are confident that this was/is a hoax. They say it is scientifically impossible for anyone to sit in one place without eating and drinking for such a long time. This was a well planned hoax to deceive innocent people and get their money.
The second group of people believe that he's holy and divine. One guy reasoned it like this — "You see he has been meditating for 10 months without food and water, and is immune to fire and snake bites. Who do you think he is?"
There's a third group, who think he's the reincarnation of Buddha. This reincarnation thought was implanted and made popular by captivating headlines that many mainstream media choose, while Ram was meditating, and after he went missing.
The final fourth group of people are open minded, curious and not exactly sure what's going on.
I'm one from the fourth group. I'm very deeply interested in this story. I feel something significant is going on here. I think all the attention he got was something he never asked for. I hope he's safe, in a peaceful place and progressing with his meditation. Like the critics and believers I'm waiting for his appearance after 6 years to see what he has to say.
By the way, what do you think about Buddha boy?