Just finished reading Time Management for System Administrators by Thomas A. Limoncelli. I highly recommend this book to every System and Network Administrator. The book is packed with really useful tips for geeks who need to address the time management issues. I agree with most of the productivity tips given in the book and discovered that I was actually following similar techniques before reading it. I've written a productivity related article previously called Productive Network and System Administration. Currently I'm trying some of the techniques and softwares recommended in the book. A friend of mine has started a chapter by chapter review of this book in his blog, Human Modem. I recommend you to check his site for detailed analysis and review. Here I'm listing the tools, softwares and books recommended for time management by the author: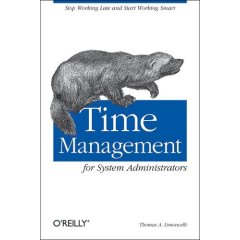 Request Tracker: A ticketing system which enables to efficiently manage problems, tasks, issues, and requests submitted by users. RT is an online ticketing system tightly integrated with email. I've written a supplement to the RedHat installation guide in my article RT: Request Tracker installation Centos 4. Currently our software department is testing this system within our office.
DateBook (DB) V: For Palm users. Makes the "to do list per day" concept easy to follow.
Life Balance (LB): Available for Mac OS X and Windows, and syncs with PalmOS version. It has all the important features of "The Cycle" with additional important concept of being aware that your life needs balance.
Stress Management, helpful and highly regarded books in the area of managing stress in productive ways:
procmail: Server side email filtering. Very efficient, I'm a great fan of this tool.
Sieve: Also for server side email filtering. (The link in the book is outdated)
The Practice of System and Network Administration: Another good book for System and Network Administrators written by Thomas together with Christine Hogan.
twiki: Wiki system with access control. I haven't tried any wiki systems yet. Just didn't feel the need of it. But after reading the book I feel that I really missed something cool, productive and useful. So, I'm going to try this out soon. Wiki is a web site where anyone can edit any page.
Recommended books for Windows administrators:
Recommended books for Unix/Linux administrators:
This is one of the few books that every system and network administrator must read. If you are new in the field you'll definitely learn a lot from the techniques described in the book. If you are an experienced admin, maybe you know most of the tricks described here. But still, it'll remind you of the things that matter most to be productive
Note: I've used product preview-enhanced link from Amazon and it displays the enhanced links for 50% of the visitors. When you hover over a book's link, a small window appears containing the book's information.