For last few months I'd been craving for a DSLR. I thought it was about time to take a step forward from my old point n shoot Canon Powershot S50 and upgrade it to a decent DSLR. BTW, my wife and I are expecting our second child in mid July and thought it's the right time to have a quality camera to take nice pictures. Spent quite some time researching which camera to buy that fitted my requirements and budget. I narrowed it down to Nikon D90, Nikon D5000 and Canon Rebel T1i / EOS 500D, and finally decided to go for Nikon D90.
I was keeping my eye on the price of D90 in UK at Camera Price Buster (very useful site indeed!). When I was ready to buy it from Currys (it was £709.00 at that time), just decided to do a last minute check on Amazon (I prefer buying from Amazon because never had any problems in the past) and to my surprise Nikon D90 Digital SLR Camera, 18-105 VR Kit was there for just £649.99 by a seller called "rodneyjwillis". Almost £60 cheaper, Excellent – I thought. Checked the sellers profile/review – it had 100% positive feedback from the buyers, nice comments and seller was with Amazon for almost a year. So, ordered it from Amazon marketplace. I didn't see anything phisy at that time and anyway I was aware that paying via Amazon will guarantee my purchase with their A-to-z guarantee scheme.
When all other stuff I ordered together with D90 arrived (camera bag, sd card and d90 book), but there was no sign of my D90 being dispatched, let alone delivered. I sensed something was wrong. Went back and checked the seller's profile – there was one new feedback saying
"BEWARE! This account is being used in a scam – items don't arrive!"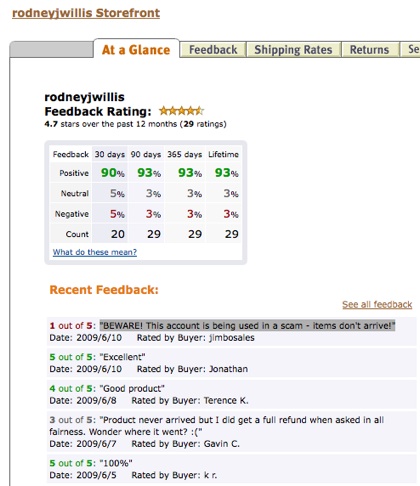 That got me worried. Sent seller an email and alerted Amazon that this might be a scam. The storefront of the seller was immediately taken off (I guess by Amazon)
Contacted the seller for the status of my delivery – got an email next day saying, the item was dispatched (without any details):
I then replied asking when was it dispatched, if he was sending it from UK and if he could give me the tracking number. In reply I received another copy of exactly the same email. Called Amazon several times and sent several emails. By now I had no doubt in my mind that it was a scam and I wanted my money back, but amazon was sticking to it's policy of waiting for the 3 days to pass after the seller's advertised delivery date, which was 11 to 23 June ( I actually placed the order in 5th June). That meant I could only file a-to-z claim after 26th June (which is 3 weeks after my order), and would have to wait for amazon's investigation (one to two weeks), then when they transfer the money back, it can take up to another 10 days to end up in your account. Almost 2 months before you get your money back in worst case scenario.
I think it's totally unacceptable for a clear fraud case like this!
When I sent a last email to the seller (June 16) – got this auto-reply saying his amazon account was closed.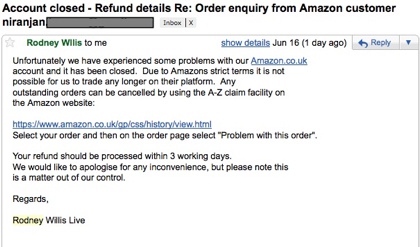 After a week of persistent complaining Amazon finally filed the a-to-z claim on my behalf. All in all it was a very dreadful experience. What a waste of time! I've spent most of my last week just checking the sellers profile, reading other victims comments, contacting Amazon and worrying…
Here's the link to scammer's amazon profile, at the time of this writing more than 70 people have fallen victim to this scam.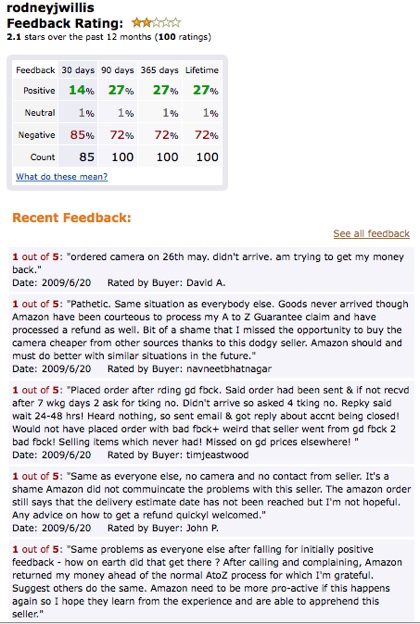 I'm sure everyone who paid via amazon will get their money back but Amazon has failed here in a big way. Looks like the seller has duped Amazon more than the buyers. At the end of the day buyers will get their money back. Amazon is the real loser here – the lost customer confidence is more costly for them than the refund they'll have to make. Amazon should have been more proactive to refund the money to customers since it was a clear fraud case, which happened due to weaknesses in their Marketplace system, but they kept on dragging.
Every amazon's email had this signature:
"We're Building Earth's Most Customer-Centric Company"
But I wasn't convinced. You couldn't reply to any emails they sent you because the emails were sent from addresses that cannot accept incoming emails. There might be a valid security reason for doing that but as a customer it was quite difficult to track my email conversation with them (the online contact form didn't keep any record of my previous emails to them either). I found Amazon's telephone support to be better than their email.
This just shows that it's not all safe and well on online purchases. The scammers can trick not only innocent users but successfully dupe big companies like Amazon.
Finally the money refunded by Amazon has appeared in my account. I'm off to local Argos store to get my D90.