Update: You must read the first hand account from LTJ in the comment.
Ram Bahadur Bomjan has started his public appearance from November 10 to November 18 2008. He's given a 45 minutes long speech and is planning to talk to his devotees for few hours everyday for a week before returning to his meditation. According to LTJ, who's been there: "his speech was about 10 minutes long. He repeated it with great self control 3 times over ad verbatim in the same voice because people were missing it"
Here's what we know about what he said so far from different sources.
Nepal Samacharpatra writes:
Bomjan says that the level of violence and death has increased in the country because society has failed to follow the religious path. And that's the reason for human suffering. Bomjan also claimed that he'll bring peace to the society through his meditation.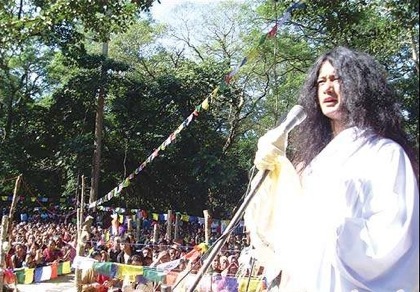 Ram Bahadur Bomjan speaking to his followers in Hallori Jungle (photo credit: Nepal Samacharpatra)
According to a Nepali blog mero sansar (There's a short video too):
He tried to link his life story with lord buddha's by saying that he's started looking for peace after witnessing a cremation of a dead body at the age of six. During his 45 minutes long talk he got stuck several times and had to whisper with his helper lama to complete the speech, which gives an impression that he's still not ready to preach independently.
BBC is also writing about his reappearance.
Officials say that hundreds of devotees, including many from neighbouring India, trekked to see him on Tuesday.
A message from Palden Dorje (google groups, you have to be a member to view the group's content)
Palden Dorje wants to help bring peace to the world. We have to do karma, learn to love each other, and trust in God. We have to make peace amongst each other and realize we are one. God is one all over the world.