There's been a lot of buzz around the OpenDNS lately. OpenDNS is a DNS provider that offers free service, with safer and faster browsing experience. This is how it works.
1. You register an account in OpenDNS site.
2. Login to your account.
3. Change your DNS Setting pointing to OpenDNS Servers.
That's it, you're good to go. The only difference from your normal environment is that now you're using the OpenDNS DNS Servers.
The Advantages of using OpenDNS Server
You'll be protected from Phishing attacks because OpenDNS keeps the database of phishing sites, so it can identify and stop sites trying to phish (cheat or trick) you. It claims to be faster than your ISPs DNS with large cache but I didn't notice any change in my browsing speed after the change, but this could definitely be an advantage if your ISPs DNS is slow. It can correct the typos for you. For example, if you type nirlog.cmo instead of nirlog.com, it'll correct your mistake and point you to the right site. The latest feature called Shortcuts allows you to type something easy-to-remember into your address bar for those web sites you visit often. For example, I can just type short "gmail" to visit Gmail, instead of typing the full url "http://www.gmail.com/". This, I think is a very handy feature. Network admins can configure the full office networks too.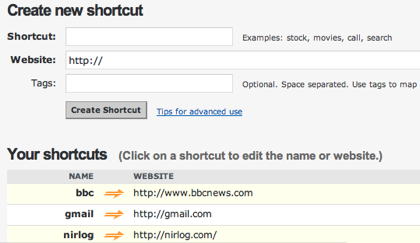 You can map short names for your favorite web sites
The Down side of using OpenDNS Server
You need to be always logged in to the Open DNS web site to use the service. They make money from the advertisement. It works like this, when there's a typo OpenDNS cannot fix, it'll redirect you to a yahoo search result with advertisement. I think that's ok, but in some cases they'll redirect you to a site that's nothing to do with the web site you intended to visit. For example if you type http://nirlog.cm then it'll redirect you to http://agoga.com/. It's clearly not the site I intended to visit, the best thing OpenDNS could have done is to redirect to nirlog.com since there's no nirlog.cm or at least it could have redirected to an organic search in Yahoo, the search engine they're using. So, I think OpenDNS's decision on what's a typo, what's wrong and right could be questionable. Actually the redirection has nothing to do with OpenDNS, it's due to registrar for Cameroon, who has created parked pages with Agoga for every unregistered .cm domain.


When I typed http://nirlog.cm it redirected me to http://agoga.com
I think OpenDNS has a clear advantage over your ISPs DNS, with it's phishing protection and speed in some cases. The shortcut is a very handy feature too. So for my personal machine I'll keep the OpenDNS setting.
Update: John Roberts from OpenDNS has cleared the point about .cm domain in his comment, apparently registrar for Cameroon has created parked pages with Agoga for every unregistered .cm domain. So, it has nothing to do with OpenDNS. And also if you've setup OpenDNS on your networks, then you don't need to login to the web site.