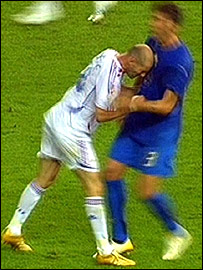 With the help of lip-reader expert the Daily Mail have deciphered the vile stream of racial and personal abuse by Marco Materazzi, which led to the violent outburst of Zidane.
First Marco Matterazzi called the French star the Italian equivalent of 'n*****', and then insulted both his mother and his Muslim background by saying he is the 'son of a terrorist whore.
It had been revealed that earlier in the day that Zidane's Mother is seriously ill. Wikipedia entry Zinedine Zidane is also suggesting the same thing as Daily Mail.
Both Zidane and Materazzi refused to comment on the incident. Zidane's agent Alain Migliaccio said, Zidane told me Materazzi said something very serious to him but he wouldn't tell me what. Reportedly, the deaf forensic lip-reader Jessica Rees was employed to analyze the video sequences with the help of an Italian translator. According to these reports, Materazzi spoke in Italian – a language understood by Zidane due to his time spent with Juventus F.C. – and first told him: "Hold on, wait, that one's not for a nigger like you." As the players walked forward, Materazzi allegedly said: "We all know you are the son of a terrorist whore." Then, just before the headbutt, he was seen saying: "So just fuck off." According to Brazilian TV Rede Globo, a lip-reader claimed that Materazzi twice called Zidane's sister a prostitute. Earlier claims about Materazzi having called his opponent a "dirty terrorist" have been denied by Materazzi, who reportedly said: "It is absolutely not true, I did not call him a terrorist. I'm ignorant. I don't even know what the word means."
I'm not sure if Zidane's response was justified but it's certainly understandable. Some times verbal abuse causes more damage than physical assault.