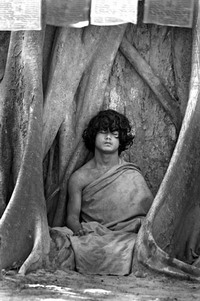 June issue of GQ will have a feature story THE INCREDIBLE BUDDHA BOY by George Saunders (the author of In Persuasion Nation). First portion of the story is available online which describes Saunder's journey to Nepal. It should be very interesting to read the first hand experience of an author who went in search of a miracle. You'll have to get the June edition of GQ for the full article.
GQ.com's Ben Phelan, George Saunders and photographer Jeff Riedel were in Nepal to see the meditating boy before his disappearance and to capture him on film. Here is their interview.
Is the Buddha Boy a hoax?

RIEDEL: My first thought was, This kid's made of wax, like a Madame Tussauds wax figure. And then I thought, Wait a minute, how could they do that?

SAUNDERS: These people couldn't pull that off. And in a way it wouldn't even come into their radar. I'm a pretty sarcastic person, and it was interesting to see how that simplicity of life, or poverty, or whatever you want to call it, also has a component of real sweetness and earnestness that was almost unimaginable to me until I saw it—this real gentle surface-level earnestness. I don't know if you felt that, Jeff, but they were so guileless, the people we met, which made them believe in this boy more, because the level of deception you'd have to practice to pull off this hoax would even be a lot for us, in upstate New York.

You get the feeling there that if someone did something dishonorable, there's nowhere for them to disappear to. The people in the communities know everything about each other. That's why I thought, "In this Village Committee, you think about them trying to pull a hoax. If there's even one person in the community that was onto it and skeptical, or felt dissed or pissed off about it or something, that's all it would take to blow this thing up." But you know, we're out there five days, six days, whatever. Nobody pulled us aside to say, "Hey, you know…" And now he's gone. Wherever he is, they can't find him, which convinces me even more—he just got up and went deeper, to someplace where nobody can find him. And now he's presumably happy, I guess.