Democratic Protests in Nepal is getting unprecedented coverage in International media. Of course it is well deserved and thanks to all the media coverage, world now sees how Nepalese are fighting for their freedom. I just noticed that Boing Boing has a story about A Nepali photoblog site Phalano.com which is publishing the photos of the ongoing protest everyday. I'd mentioned about this blog in my previous entry News from Nepal .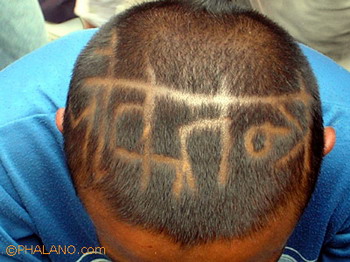 Talking about this photo BoingBoing says:
This demonstrator has shaved a message into his head. I can't read it. But would welcome a translation from a BoingBoing reader.
There is an excellent translation in the comment with which I totally agree:
You asked for a translation of "Loktantra". The Nepali language used "Prajatantra" to mean "democracy". "Praja" means "subjects" (of a King or monarch), so "Prajatantra" actually means "the rule of subjects", which obviously is unsatisfactory. So the new term "Loktantra" was coined. "Lok" means "folk" – so "Loktantra" would be full democracy, as opposed to a half-hearted version.