After getting little familiar with the OS X now it's time to plunge into the applications that are essential for daily productivity. Of course first thing is the web browser, then comes email client, office suite and other special applications. Before going into the applications I would like to mention about the installation and uninstallation process in Apple. It's little different than windows. In windows you have an installer (install.exe or setup.exe) and an uninstaller to remove the program. Macs are little different, just drag the .app to Applications folder and it's installed. Just drag the installed application to Trash and it's uninstalled. Easy, straight forward and very cool indeed!

Web Browser
I tried Safari but I'm so used to the tabs that without them I find very difficult to switch between different sites I'm browsing (most of the time it's 10+). For the time being Safari is not for me. I've tried Camino and was ok with it but mozilla has released Firefox universal binary version, so now I'm back to firefox and happy with the speed and familiar interface.
Update: Safari does support tabs as noted by Paul (in comments). You just need to enable it by going to the preferences.


Email Client
In Windows I've used Outlook, Outlook Express, Eudora, Netscape and many other email applications searching for a perfect IMAP client. Currently I'm using Thunderbird in my windows environment. Out of all these I've found Thunderbird to be an acceptable IMAP client. Thunderbird does have some issues with IMAP. E.g. sometimes it cannot copy the sent emails to sent items and is hangs for unknown reasons. Anyway Outlook and Outlook Express are even worse. I was blown away with the Apple Mail client. The IMAP just works. It gets the emails and headers from the IMAP server blazingly fast. It has all the functions I've been using with Thunderbird. The SPAM filter is excellent. No problem to store the sent items in server and never had a single crash yet. One thing I'm missing though is the Webmail Extension of Thunderbird. Because my family and friends still send me email in my old hotmail account. Now I'll have to login to the hotmail via web and check for new emails every now and then. But this is a compromise I'm willing to make to use the best IMAP client available (I think).

Terminal
OS X has openssh client, so the built in terminal is good for me to access other Linux/Unix servers but I need to access several servers at the same time and opening different terminal windows for different servers seemed like browsing multiple sites with IE. I found iTerm, which suits my needs with excellent tabs and bookmark features.

MS Office 2004
Mainly for word and excel.

Remote Desktop Client
I need to connect to windows machines.



Chicken of the VNC
I've no idea why it's named like that but works well :).

PPTP
I need to connect back to our Office LAN using PPTP. The pptp client in OS X works flawlessly.

Skype
To talk and chat.


Transmit
Full featured ftp client.

Ecto
I've installed Ecto trial version. It bounces several time in the dock before opening for the first time since it still don't have native Intel support. But I think it's the best blogging client available. So, I'm going to try it for some more time.

Newswire
It's a pretty good rss newsreader.

Quicksilver
I've read so much about it that I decided to install but I'm yet to use and see the power of quicksilver.
Preview
Opens pdf documents in a flash. It's an amazing experience as a windows user who's used to heavy adobe reader. It's so true that with Preview "portable documents just got more portable".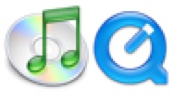 Audio/Video
iTunes and Quick Time do the job best.

User ID/Password Manager
Keychain is an excellent built in user id/ password and certificate manager for the desktop user and I'll be using it. But at work we're currently using Anypassword in windows which stores the DB file in the server. So, all the system admins can access the file from their PCs. Another similar program in windows is KeePass. I couldn't find similar program for OS X. If Mac gurus have any suggestions please let me know.
These are the basic applications I need for daily use and I think there should be no problem for me to switch.