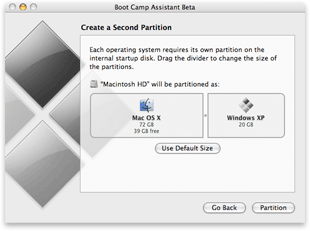 Apple has released a software called Boot Camp to allow Intel Mac users to let dual boot between Windows XP and Mac OSX. The software is in public beta and doesn't come with official support but I think this is a very clever, bold and timely action taken by Apple. Now it will become irresistible for users like me to buy Intel Mac.
More and more people are buying and loving Macs. To make this choice simply irresistible, Apple will include technology in the next major release of Mac OS X, Leopard, that lets you install and run the Windows XP operating system on your Mac. Called Boot Camp (for now), you can download a public beta today.
The Boot Camp helps to burn a CD with drivers for Windows which includes:
– graphics
– networking
– audio
– AirPort wireless
– Bluetooth
– the Eject key (on Apple keyboards)
– brightness control for built-in displays
I'll definitely try this as soon as I get the replaced macbook pro. You can download Boot Camp and the Installation & Setup Guide before starting your own installation.