My wife called me on 27th afternoon to let me know that the eagerly awaited iPad was finally delivered. It arrived one day ahead of schedule. I couldn't wait to get my hands on it. I asked her not to open until I got back from office 🙂
The out-of-the box experience was similar to iPhone. Small package with gorgeous and slim iPad inside. I ordered a 32GB Wifi + 3G model, mainly for the GPS and mobile internet. I thought extra 100 quid was worth it. I bought the apple iPad case as well, which is probably the best case for iPad available. It really suits the iPad and can become a stand while watching movies, slideshows or when you're turning your ipad into a digital photo album.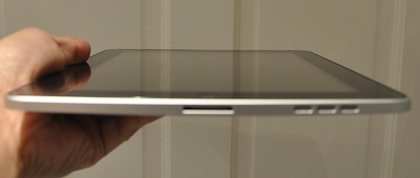 At first glance it looks like a big iPhone/iPod touch and if you've used them, it's exactly the same way to use it. After all it runs the same iPhone OS. However, you'll immediately start feeling the difference – mainly due to the speed and screen size. Everything is so much better than on iPhone. It was easy to connect to iTunes and get started (exactly like iphone). First thing I did was to connect to wifi, it couldn't be easier! I ordered the O2 micro sim as well (pay & go). It was easy to insert and 3G internet works well.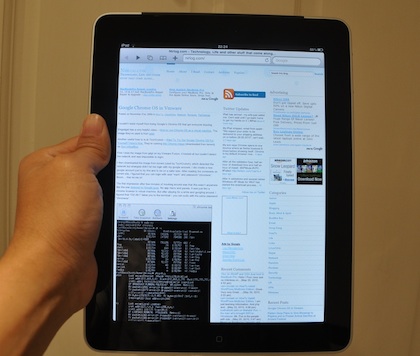 Physically it looks gorgeous and perfect in every way. I thought it's slightly heavier than it looks, but feels very nice to hold and use. It's very much like other apple devices with few buttons (one home, one power on the top, volume and orientation lock at the side).
Once you start using it, the first thing you notice is the speed – you touch the safari icon and it immediately springs into life, same is true for photos, ipod and every other app. It's amazingly responsive! The soft keyboard is similar to the iphones, but keys don't popup when you press them. They're quite big, and you can actually do some real typing with it.
Default Apps
I setup my Gmail account in Mail app. It's nice, I like the sidebar, where you can easily navigate the emails and once you click the mail you want to read, it opens that email in full screen. You go wow…! I think Gmail (mobile version) in the browser is quite good too, I like the way Gmail natively organizes conversations. The google reader mobile version on the web is also very good.
Photos is amazing, you feel like a magician when you pinch and expand photo collection with two fingers. Videos is fantastic, I can actually foresee watching full length movies on this screen, while on the move. The iPod is much better than on iPhone because of the larger screen size. Built-in speakers are not that bad too. Youtube is another great entertainer. Maps is stunning, specially the street view.
Third Party Apps
After using the default apps that came with iPad, I started browsing and downloading the free native apps from the app store. Some of my favorites are ibooks, pages, marvel comics, the guardian eyewitness, tweetdeck, rightmove, WordPress, IMDB Movies and TV, Jampad, and … There aren't as many native iPad apps as iPhone but I'm sure this is going to change with time. Anyway, you can use most of the existing iPhone apps too.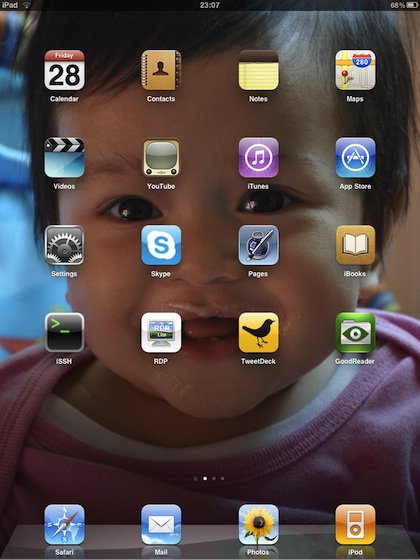 Network Admin/Productivity in iPad
Obviously web browser and the email client are the most important apps but besides that built-in VPN client works like a charm (it's a cisco ipsec vpn client), I could easily connect to our office vpn.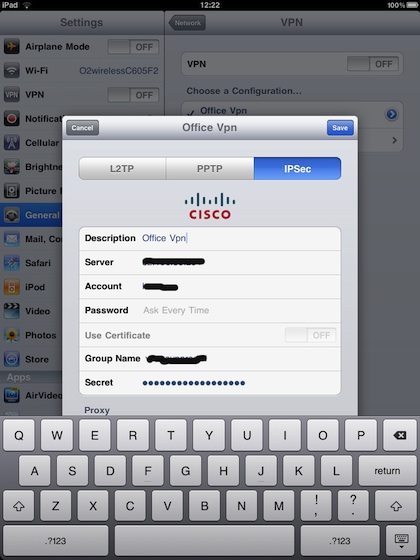 RDP Lite and VNC Lite (both free apps) work very well to give you remote connectivity to windows machines.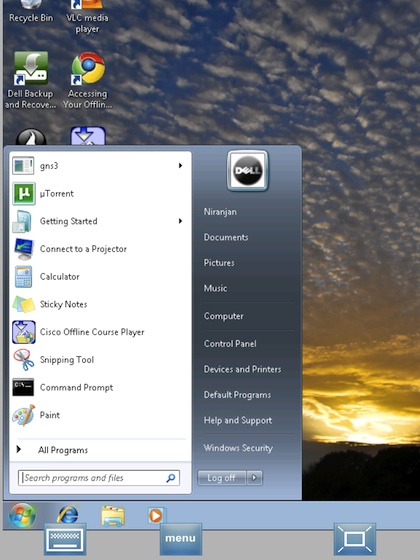 I couldn't find any free SSH Client, so I bought iSSH for £5.99. It's a decent ssh client, which also supports telnet and vnc.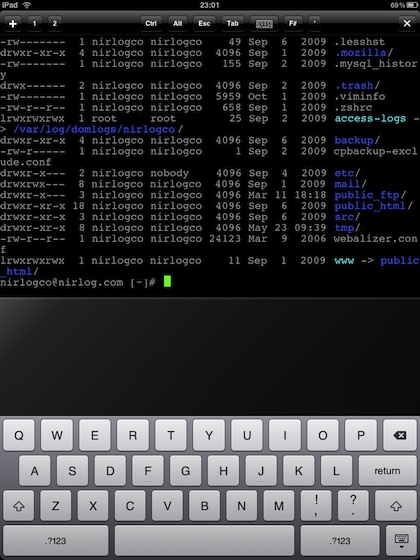 Skype doesn't have a native ipad app yet but the iphone version works well on ipad as well.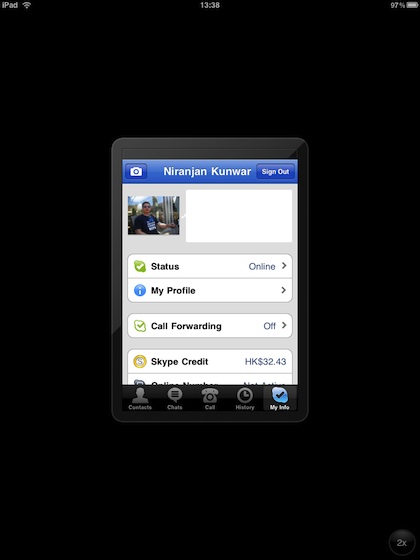 Although you can read pdf files online and attachments in email, there's no way to save and organize them locally in ipad, so I bought GoodReader for iPad (£0.59). It's a pdf reader as well as file organizer, I can now carry my pdfs around with me. It's really nice.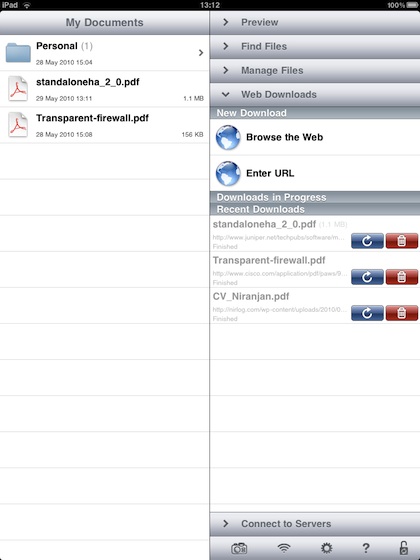 Initially, I thought I would continue to use Google Docs to create and manage my documents, but unfortunately mobile safari can only view the docs, not edit them. So, I bought pages for £5.99. But I think it's useful and worth it. The interface is well designed for touch.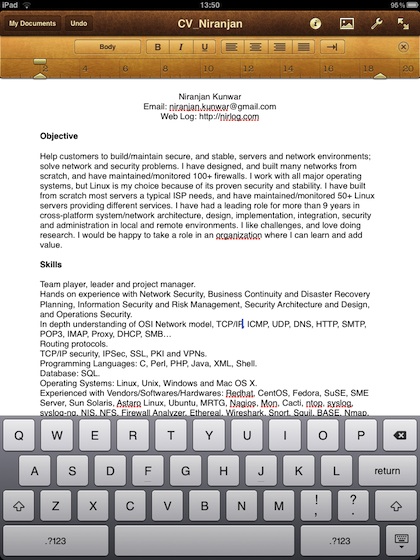 Few things I don't like
– No front-facing camera. I think there should be no excuse not to include it, but I'm sure second generation iPad will have it.
– No third-party multi-tasking capabilities. Apple is bringing them on with iPhone OS4, so that's good.
– No file management. I think apple should have something like GoodReader built in to the OS or at least as a free app.
Conclusion

Currently I see iPad as an excellent content consumption device but not-so-much content creation. But it has the potential to change all that with future upgrades from apple and new apps from third-party developers. My son really loves playing games and watching youtube in it and my wife loves browsing facebook 🙂 Unlike iPhone, which is my personal device, I see iPad becoming not just my personal device but our family device. Also, from now on I can go on short trips with my iPad, confidently leaving my notebook behind.
Here're some unboxing photos that I've taken, enjoy…
Click on the photo for larger image.