I couldn't resist myself from trying Google's Chrome OS that got everyone buzzing.
Engadget has a very helpful video – How-to: run Chrome OS as a virtual machine. The image they've used is from gdgt.
Another useful how to is at TechCrunch – Want To Try Out Google Chrome OS For Yourself? Here's How. They're running this Chrome image (downloaded from torrent) on Sun VirtualBox.
First I tried the image from gdgt on my Vmware Fusion, it booted ok but couldn't detect the network and was impossible to login.
I then downloaded the image from torrent (used by TechCrunch), which detected the network but strangely didn't let me login with my google account. I did create a new google account just to try this and to be on a safer side. After reading the comments on torrent site, I figured that you can login with user "mark" and password "chromeos". Boom… that let me in!
The first impression after few minutes of mocking around was that this wasn't anywhere like the one demoed by Google guys. No app menu and panels. It was just like a chrome browser in virtual machine. But after playing for a while and googling around. I figured that "Ctrl Alt t" takes you to the terminal – you can sudo with the same password "chromeos".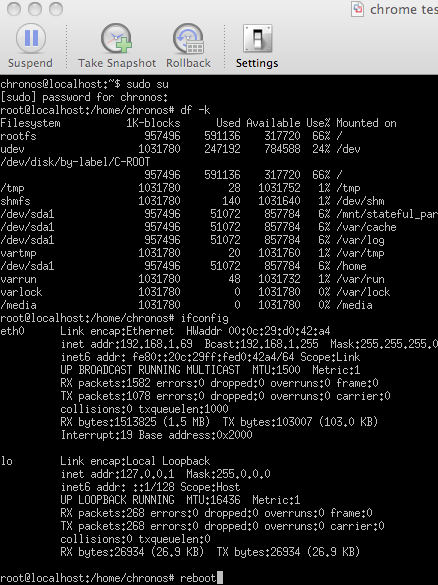 After rebooting the Chrome OS from command line and re-logging in, the App Menu became available.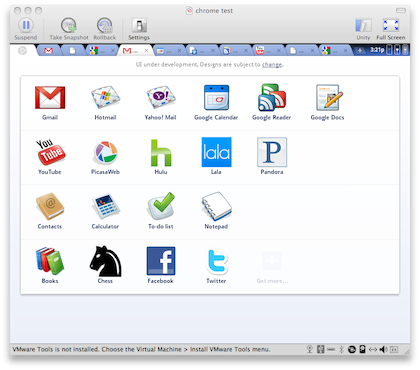 I could start the sshd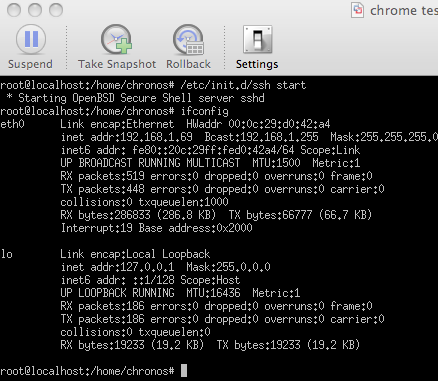 And remote login from my Mac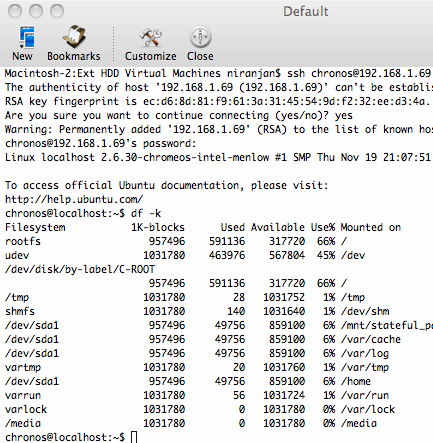 Personally, I think Chrome is trying to bring thin clients back in from of netbooks. Thin clients failed earlier because the networks were slow and "cloud" wasn't there. But Chrome stands a chance as cloud is the future and it's built with three very important goals in mind – Security, Speed and Reliability. Having said that, native softwares are absolutely must for it to succeed. Even iPhones need native apps!
As far as user experience is concerned, at the moment Chrome OS is nothing but a browser. If you want to experience the early Chrome OS – just install Chrome browser and browse your favorite sites :). I'm sure this is going to change when Chrome OS is finally released for public next year.