Apple has finally announced the long awaited SDK for iPhone. Looking at the amazing games and enterprise softwares that third party were able to develop in just two weeks I'm convinced that iPhone will be an excellent gaming machine as well as a hit enterprise handheld device. The next release of iPhone firmware version 2.0 due to be released in June will have native Exchange support, Cisco IPSec VPN, remote wipe capabilities, WPA2, and many more…
Here's a nice iPhone SDK comparison chart by engadget.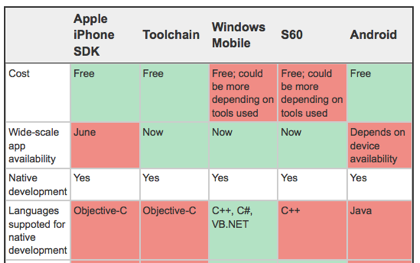 Another good news for iPhone users in UK is that BBC has launched iPlayer video on demand service for the iPhone and iPod touch. I just watched the BBC News on my iPhone and it's just awesome!