GFI LANguard Network Security Scanner is a very easy to use yet powerful commercial Network vulnerability scanning, patch management and auditing tool. If you have a small network with few computers then it's easy to keep track of the softwares installed and do the patching manually, but for larger networks it would be a nightmare to do everything manually. This is where tools like GFI LANguard NSS come in to help network/system admins. GFI LANguard NSS makes use of the vulnerability check databases based on OVAL and SANS Top 20, providing over 15,000 vulnerability assessments when your network is scanned. It is one of the best commercial network security scanner and patch management tool available.
I've installed and tested it in my WinXP SP2 running on my MacBook Pro Vmware Fusion, and this is what I found.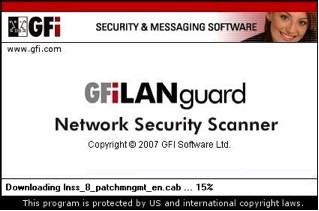 Installation and usage
The installation is easy and straightforward. You just need to follow the on screen instruction. You'll require: a domain administrator account, a smtp server address to send alerts via email and have to choose either Microsoft Access or MS SQL Server for the back-end database.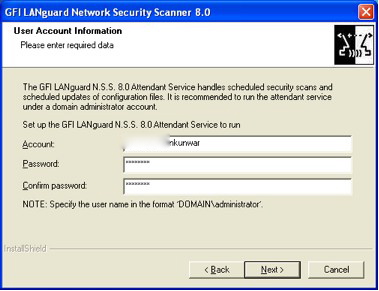 Scanning, Reporting and Patching
The user interface is intuitive and easy to use. After the scanning is completed, it gives a nice report of the scan (you can choose to scan a single computer, group or the whole network). In the first scan it let me know that my Office and Windows need some critical patches. If you expand each vulnerabilities then it'll give the Microsoft ID, download link and the patch release date. You can apply the patch or choose to ignore it by right clicking on it. There's a handy feature to mass deploy the Microsoft updates on selected computers or all computers in the network. Other notable features in patch deployment are:
– Custom Software deployment
– Uninstallation of Microsoft updates
– Detailed Patch Deployment log
Besides the vulnerabilities the scan reports on open tcp/udp ports, open shares, installed applications, password policies, groups and users (with their privilege, last logon and password age).
You can buy an extra ReportPack to create vulnerabilities scanning reports and system information reports for your managers and bosses. I think it would have been great to have this reporting built in to NSS.



Useful Tools
GFI LANguard NSS comes with very handy tools that a network/security admin uses every day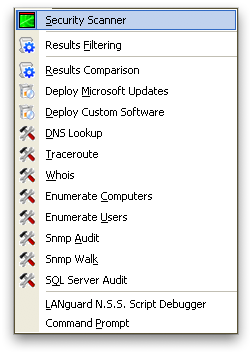 Conclusion
I've tried the GFI LANguard N.S.S 8 for few days and think that it is a very useful tool for network and security administrators. I liked the fact that it has all three useful tools i.e. network vulnerability scanning, patch management and auditing integrated into one. It's also easy to use and manage. The lack of built-in ReportPack is the only down side of it. Here, I've just scratched few features of the product, if you're interested you can try it for free with 30 days evaluation version before buying it.
Update: GFI have now included the ReportPack for free with GFI LANguard N.S.S. and all other ReportPack-powered software titles on top of the 45% price cut.