Finally got my hands on the iPhone today!
We've all watched/read so much about the iphone and it's coolness that expectations were quite high. And I've to say that I was not disappointed. It's really cool, slim and gorgeous. Most of the things work perfect. I think the keyboard is not an issue.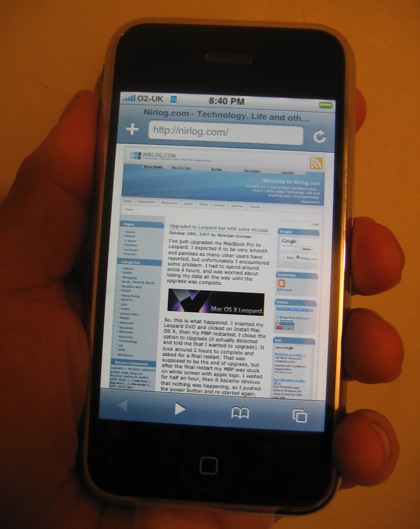 iPhone was launched today at 6:02pm in UK and could be bought in Apple Stores, O2 stores or Carphone Warehouse stores. You'll have to sign 18 months contract with O2, which is the exclusive carrier in UK.
There's one Carphone Warehouse store few blocks away from my house, so I went to check out at 6pm. Surprisingly there were just around 20 people queuing up. The store opened at 6:02 and everybody was let in. But there was a problem with carphone warehouse's payment system. I'm not sure if the system was flooded by iPhone transaction or other technical issues. Anyway, it took more than half an hour just for the payment authorization. I was the first one to walk out of that store with the iPhone. They authorized the payment manually, bypassing the chip and pin (security system in UK's bank cards).
Activating iPhone with iTunes was a smooth and painless process. I am currently using Vodafone, and got the PAC code from them few days ago. PAC code is a special code to transfer your mobile number from one provider to another. My existing mobile number will be automatically transferred to my iPhone after 7 days, until then O2 has assigned me a temporary number. That was clever.
Played with most of its features, made several calls (quality is quite good) and tested the visual voice mail (which should be very useful). Synced my address book, music, podcasts, some photos and videos. iPod is excellent. Gmail and IMAP mails are easy to configure and work without any problem. Photos are very cool, flipping them, zooming in/out, resizing was fun. Google Maps will be very useful for me finding places in London, it loads pretty fast even on EDGE Network.
Only problems are the Wi-Fi connection and YouTube. I use a 128bit WEP HEX Key at home and couldn't establish connection with my Access Point. Quick Google gave me this (seems to be a known issue) but using $ in front doesn't solve the problem for me. For the YouTube Videos It says that it requires an EDGE or Wi-Fi connection.
I think these two problems can be fixed easily.
I'm just having a good time playing with it. You've to hold it and use it to really appreciate it. It was a nice Deepawali gift for myself!