I've just upgraded my MacBook Pro to Leopard. I expected it to be very smooth and painless as many other users have reported, but unfortunately I encountered some problem. I had to spend around extra 4 hours, and was worried about losing my data all the way until the upgrade was complete.

So, this is what happened. I inserted my Leopard DVD and clicked on Install Mac OS X, then my MBP restarted. I chose the option to Upgrade (it actually detected and told me that I wanted to upgrade). It took around 2 hours to complete and asked for a final restart. That was supposed to be the end of upgrade, but after the final restart my MBP was stuck on white screen with apple logo. I waited for half an hour, then it became obvious that nothing was happening, so I pushed the power button and re-started again, which led to the same white screen. At this point I was quite worried about my data. I had done my last backup 2 months ago. Actually I should have backed up before starting the upgrade, but I thought since everyone is doing it smoothly why would I have a problem? Also I was too excited to experience the Leopard that I didn't want to spend time backing up, and neglected the risk of losing 2 months data.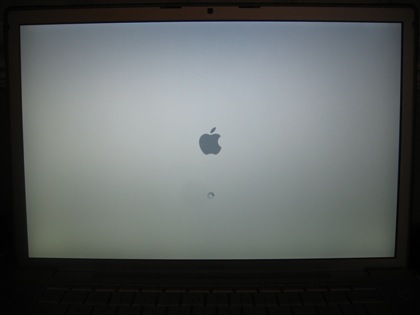 Stuck in the white screen forever

After getting stuck in the white screen twice, I restarted the MBP holding the C key, which took me to the Leopard Installation Screen. Then I clicked on Disk Utility and chose to Repair Disk. The Repair Disk Utility found 2 problems in the Volume and reported that it successfully fixed them.
Invalid Volume file count
Invalid directory count
I thought that's a good news and hoped it would fix the problem. I restarted the MBP, but again got stuck in the same white screen with apple logo. At this point I decided to make a backup of my 2 months data (which I should have done before the upgrade). So, I restarted again holding C and connected my external USB hard disk (fortunately it detects the external hard disk and the installation screen has disk utility and terminal shell). I copied my data using command line from my MBP's internal hard disk to my external usb hard disk. Now it felt better being sure that my data was in external hard disk.
Then I chose the option to Archive and Install, with Preserve Users and Network Settings checked. The installation took around 2 hours and finally booted successfully to Leopard. Yes…! I shouted with delight, the first thing I noticed was the Leopards eye-candy desktop background and the dock. It had preserved all my settings from Tiger. All the applications seem to work perfectly. I haven't noticed any difference in performance, it's as fast as Tiger. I've already played with some features like Cover Flow, Stacks, Spaces and Mail with todo and note. The Time Machine is very cool and easy to use, I think it is the most painless backup system I've ever seen. The installation has created a folder called Previous Systems where the Tiger (failed Leopard upgrade) is archived.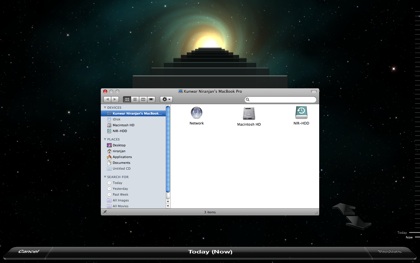 Time Machine – visual backup and recovery
I'm happy that I've got the latest and greatest OS in my machine but will never attempt another upgrade without fully backing-up the data first 🙂