When I read Mahabir Pun's story about how he brought the wireless technology to a remote mountainous village of Nepal called Nangi, I was amazed by his determination! What an inspirational story of a man with a noble cause. It really gave me goose bumps, I just thought what a difference one committed individual can make to a society. With his determination, hard-work, and dream, he changed the lives of all the people of Nangi village for better. What a meaningful way to use the technology and what a wonderful way to live this life. I sincerely wish I could do something like that. I've written to Mr Pun and hopefully I could be helpful to his project in someways.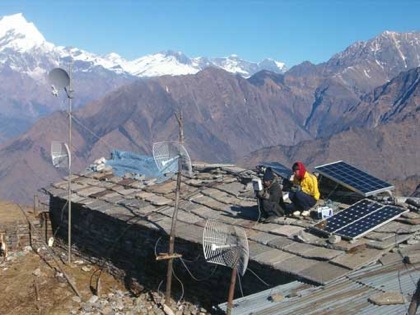 Relay Station 2, Khopra with Antennas Pointing to Different Villages Elevation 3,600m (~12,000 ft)
More Photos

Here's Mr Pun's story in his own words.
He grew up grazing cattle in the mountains and had no idea about high schools. But he had a visionary father who migrated to a town called Chitwan to make sure Mahabir went to school. This is what Mr. Pun has to say about his father: "He suffered himself and made the family suffer so much for sending me to school in the years that followed."
After completing his high school Mr. Pun became a teacher, and taught for 12 years. He then got a chance to study at University of Nebraska at Kearney, U.S.A, where he completed his Master's Degree in education and came back to his ancestral village to fulfill his dream to provide educational opportunities for the rural children so that they should not have to go through all the pain and struggle he went through. He says, "I have a first hand experience of how much it hurts to go through that kind of pain."
Mr. Pun returned to his village after 24 years and joined the Nangi's leaders who were establishing a village high school. He started teaching computer classes at the school when four used computers were donated from Australia. Standalone computers were ok, but connecting to the internet seemed impossible without a telephone line. After trying many options, Mr. Pun sent an email to BBC in 2001, asking for ideas. BBC then interviewed him and published the story Village in the clouds embraces computers and Praise for Inspirational Web Pioneer. That was the turning point. Shortly, volunteers from US and Europe helped him with the wireless connection. They used TV dish antennas mounted in trees to establish wifi connection with neighboring villages. In 2003 the village of Nangi went online.
Here're some news articles about the Nepal Wireless project.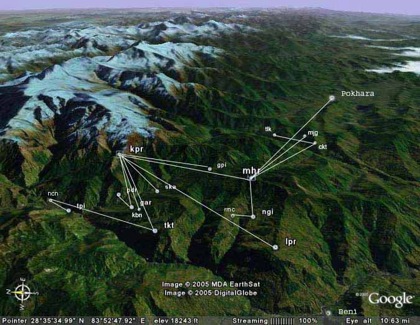 The Satellite photo of the networked villages and stations
The board of trustee of Ramon Magsaysay Award Foundation has elected Mahabir Pun for the 2007 Ramon Magsaysay Award for Community Leadership for his innovative application of wireless computer technology in Nepal, connecting remote villages. I would like to congratulate Mr. Pun for his well deserved award and recognition. Hats off to Mr. Pun!
His mission is ongoing and you too can contribute to his Himanchal Education Foundation in many ways. Your small donation can make a big difference. You can also contribute to his Nepal Wireless project and help the himalayan village connect to the global village.