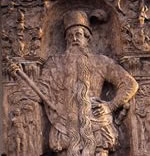 Strange and unusual deaths…
Austrian Hans Steininger was famous for having the world's longest beard (it was 4.5 feet or nearly 1.4 m long) and for dying because of it.

One day in 1567, there was a fire in town and in his haste Hans forgot to roll up his beard. He accidentally stepped on his beard, lost balance, stumbled, broke his neck and died!