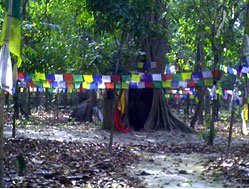 Update 13 March 2007: He's been found safe and is meditating in a new place.
All Headline News is reporting that the Buddha Boy (Ram Bahadur Bomjan) has gone missing again after he re-appeared in December last year on Christmas day. He's been meditating near Halkhoriya pond in Bara, since his re-appearance in December. Locals in the district said he left his meditating place Thursday midnight.
Officials of Namo Buddha Service Committee searched for him throughout the day on Friday. Inspector Rameshwor Yadav of the Area Police Office in Nijgadh said the police have not been able to reach the spot though they were reported about his missing.