I'm planning to buy a new laptop (MacBook or MacBook Pro) after the Leopard is released, and have been wondering which one of the new apple laptops provide a better value. Here is a nice break down of different components of MB and MBP.
First of all, both the MacBook and the MacBook Pro come in three models. I'm assuming that for people who are considering both the MB and MBP lines, the $1099 MB model is too underpowered and the $2499 and $2799 MBP models are too expensive, so the models they'll consider are the $1299 and $1499 MB models and the $1999 MBP model. I'll ignore the $1499 MB as well as it's just the $1299 model with a 120 GB hard drive and in black. The bigger drive is a $150 option for the $1299 model.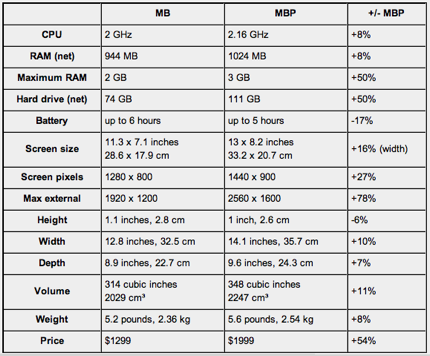 There's no doubt that both the MacBook and the MacBook Pro are excellent laptops, but I think I'll go for MacBook Pro, for it's bigger screen (just 0.4 pound heavier than MB), faster performance and discrete graphics processor (vista aero compatible). Probably it's worth the extra money.