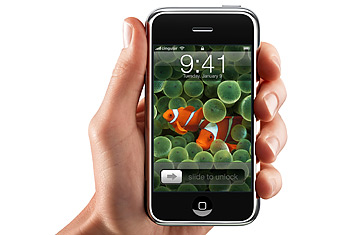 Like everyone else I've been following the wild iPhone rumors from a long time, and was really happy to see it happen today. Can't wait to get my hands on it, although they'll be releasing it in Asia only on 2008. This small device is packed with a lot of amazing features, it's a:
Widescreen iPod
Revolutionary Phone
Breakthrough Internet Device
High Technology

Everything looks wonderful but I'm just wondering how effective the on-screen keyboard for typing emails and sms would be! Lets wait and see.
Useful links to give you a full dose of iPhone before you can get hold of one:
iPhone (Apple's official iPhone page)
Watch the iPhone Introduction by Steve Jobs (video on demand, requires QuickTime)
Apple's new calling: The iPhone (a good article by Time reporter, who got a sneak peak)
TUAW on iPhone (The iPhone category of The Unofficial Apple Weblog)
Engadget on Apple announcement at Macworld 2007
GigaOM on iPhone
Gizmodo on iPhone