This is the news that I and millions of other Nepalese were waiting for. War is officially over in Nepal. The government of Nepal and Maoist rebels have signed a historic peace accord, which ends the 10 years of fighting that killed more than 13 thousand people. This brings an end to the politics of bloodshed and starts a new peaceful era for Nepal.
Here is the full text of the Comprehensive Peace Accord (English)
This is what Prime-minister Koirala had said after signing the peace deal.
"Beginning today, the politics of killing, violence and terror will be replaced by the politics of reconciliation," declared the 85-year-old PM Koirala who said he had put his entire political career at risk by venturing on this path of peace and democracy. "Being a democrat, I wanted to bring non-democrats into the framework of democracy. I was warned by many friends about the hazards of dealing with terrorists but I thought that bringing all under democratic framework was the duty of a democrat."
Photo blogger Rajesh KC has put together the sequence of signing the peace accord; from preparation to the signing and the celebration in his blog entry The end of the war.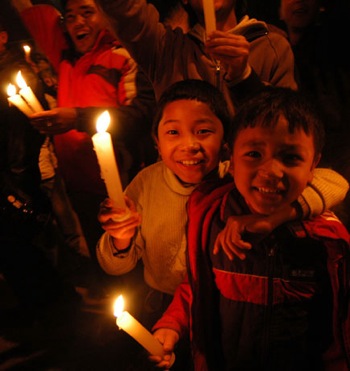 Here is an emotional blog entry from from Dinesh Wagle, where he describes how it feels to see the end of the bloody war.
Staying away from home, I never had the first hand experience of how it was to live under the Maoist insurgency, but my heart always cried when I had to hear the news of bloody conflict claiming innocent lives and hindering the development of the country. I cannot describe in words the overly joyous feeling that I'm having right now. I can feel the invisible power that peace is bringing to Nepal. I join the millions of people at home and abroad who feel the same way and celebrate the peace at the top of the world.