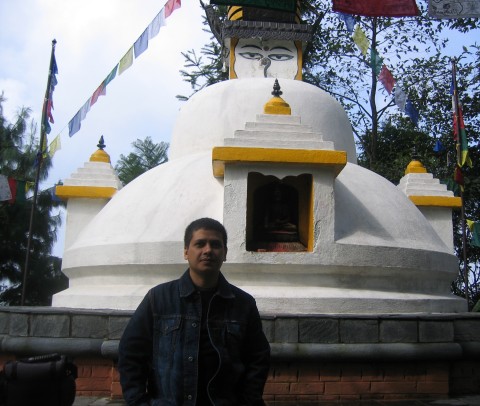 I'm back from Nepal, currently coping with loads of email accumulated during last 2 weeks and following up some special jobs. Going back to Nepal has always been special but this time it was an extra special event due to Dashain, prospect of peace in the country and my son being able to understand and remember the trip

The Journey and my son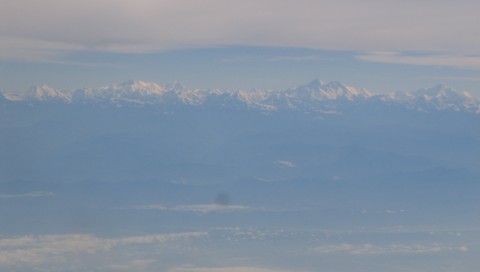 Himalayan range, seen from the plane before landing in Kathmandu
The flight from Hong Kong to Kathmandu was delayed by 14 hours. From Kathmandu we took a van to my home town Pokhara (200KM), which took about 8 hours because of the traffic jam caused by a truck accident. That was the bitter start, but that was all about it, rest of the holiday was very good. As soon as we drove out from Kathmandu Airport, my son noted buffalos and cows on the road and started counting them. I had to help him differentiate between the buffaloes and the cows, he fell asleep after an hour drive and wasn't able to keep the count later. The himalayas, white rivers, green jungles, paddy fields, old houses, local villagers, cows, buffaloes, goats, the smell of the air and everything was very new to him. He kept on asking questions and expressing his feelings non stop. He was pretty much overwhelmed by the contrast. It was fun to hear and watch him getting excited…
"Oh I can see 2 buffaloes, no it's three…, there are more than three…"
"I can smell something…"
"look, that's the himal!"
"Daddy is this a buffalo or a cow?"
He saw a snake on the way, enjoyed playing with snowy (dog) at home, had a good time running around the garden, he was surprised to see the colony of ants, chased sparrows and doves. One of his favorite activity was riding a motor bike. He liked boating in the Fewa lake, went for a pony ride in Nagarkot and saw tigers, elephants, rhinos, hippos and other exotic animals and birds in the zoo. This was a very exciting and memorable holiday for him. But he was surprised to watch the Cartoon Networks in Hindi.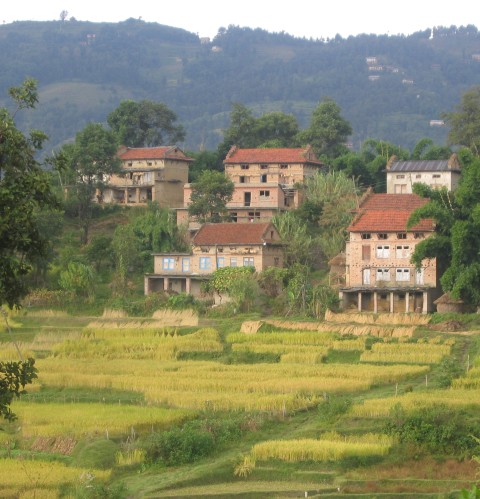 Traditional houses and paddy fields. A village near Nagarkot
Dashain
As a child Dashain was always very special to me. Our schools used to remain close for almost a month, we would get new clothes and money with tika. Swings and mountain goats used to be other inseparable parts of Dashain. The time has changed but the joy Dashain brings still remain the same. We bought a Chyangra and a Bheda (mountain goat and sheep) from Chyangra bazar (Tudikhel in Pokhara). We could see traditional swings installed in many places, a lot of movement, a lot of colour and the festive mood all around. We had family gathering, tika ceremony, temple visits and many invitation from relatives. A lot of mutton (goat meat), sukuti (dried meat) and raksi (beer/whisky). It was a typical Nepali Dashain. Party non stop for 15 days…, having said that, this Dashain was more of a conscious and spiritual experience than a material and sensual one for me.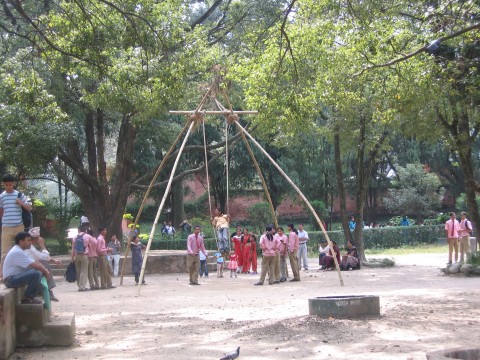 Students enjoying the swing during break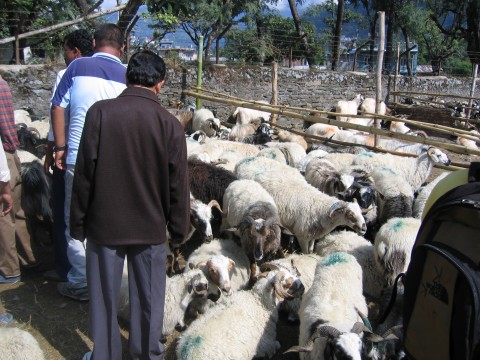 Choosing the Chyangra (mountain goat)
Politics and peace
This time there's a real prospect of peace in Nepal and we could see a lot of movement. Army, Maoists and displaced people were going back to their homes (villages) to celebrate Dashain. Sadly, the long distance public transport weren't able to cope with the movement of people. Several accidents were reported due to overloading of public buses. The peace talks were to be held immediately after Dashain, so everyone was sure that whatever the result of talks, it won't spoil their Dashain. As writing of this, the peace talks are postponed further indefinately becuase the 7 parties and the Maoists couldn't reach an agreement on Monarchy and Maoist arms management. They're planning to sit for a decisive talks soon (they've said this many times before too). I hope they'll nail a peace deal this time that'll give Nepal and it's people a long lasting peace, political and economical stability they deserve.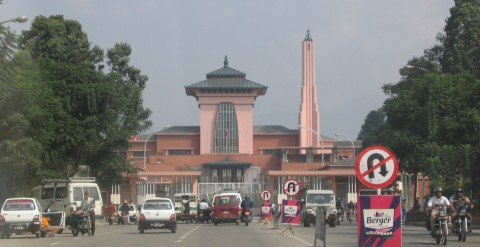 Narayanhiti Royal Palace seen from Kings way
Internet
I was planning to upload some photos from Nepal but the Internet was very slow from Pokhara's cyber cafe. The PC was still running win98, when I plugged my usb card reader it asked me for a driver and win98 CD, so I gave up. Checking emails was not very convenient, sometimes the Gmail took almost a minute to load the login page. This gave me a good reason not to worry about email, internet, news and the world, and I was in holiday anyway ;). This was the first time in several years I lived web and email free for up to 5 days.
Present and Future
The gap between rich and poor is growing wider and wider. Rich are driving expensive cars, have big houses and live a pretty good life. The poor on the other hand live on the street and hardly make enough to feed themselves daily. Most of the roads are broken and appears as if nobody cares about the maintenance. Kathmandu was very dirty, rubbish were piled up in Thamel because the dumping site villagers didn't allow to dump the waste near their village. I talked to a friend of mine who's a doctor in one of the biggest hospitals in Kathmandu, he says "government don't allocate enough funds, patients cannot pay the bills but the hospital is still running" he continued "nobody has any idea how it's running… we doctors say pashupatinath is running it" he joked. Others I met were from police and army, who said "we're just moving on…, on our own, and there're no directions from higher ranks and ministries". But everyone was optimistic and hoped for a better future. Peace is the main priority. People are sick and tired of violence. And they think stalled development of the country will take pace only when there is peace and I agree with them. The new government will have a huge challenge, they need to work for the country and really do something about the political, social and economic stability.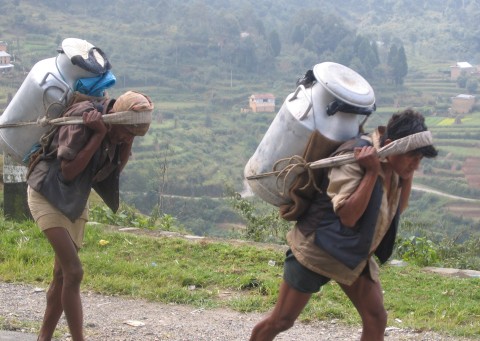 Porters carrying cow and buffallo milk from the upper village to central Nagarkot
Beauty
No matter how things are bad politically, socially and economically, the Natural beauty, traditional architecture, friendly people, childhood friends, relatives, parents and of course being at home makes you forget everything else. This trip was a very memorable one to me, my wife and specially for my son. Anyway, until his last day he's unable to differentiate between a cow and a buffalow 🙂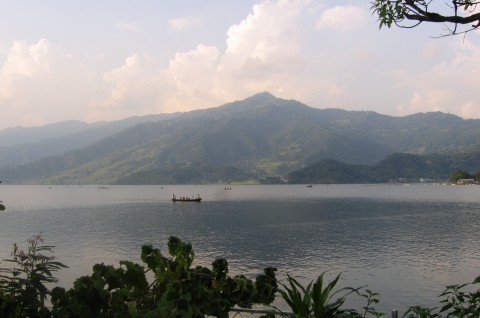 Sarangkot view from Barahi Temple, Phewa Lake, Pokhara