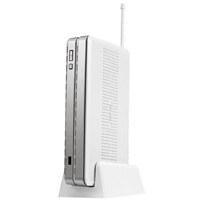 This Multifunctional Broadrange Wireless Router from AUSUS is amazing. It's a perfect one box solution for your Home Wireless Network, Internet Connection and Digital Media Storage. All this in a small box:
Wireless Router.
Storage Server with Raid-1 (mirroring) capability.
Built in FTP/Web Server.
Download master (can directly download to the device using Bit Torrent, FTP and HTTP).
Support for iTune interface for music file management.
Play Video/Audio directly on TV via DMA.