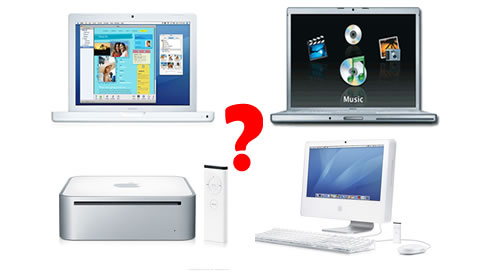 With the release of MacBook, now Apple has complete line up of Intel Macs. If you're planning to buy a new Intel Mac here is a good Apple Mac-Intel Simplified Buying Guide.
I want to buy a MacBook Pro for myself but with the first hand experience of heat…I'm not sure. I'm tempted for MacBook now. The price is right for the power it offers, just want to wait a week to see if it is plagued with same heat problem. BTW, we've sent our MBP to repair for the third time yesterday. It was returned back from repair center saying that the "heat was within apple spec". I called the tech support and talked to them for around 40mins. so, they've asked to send it to another repair center where another very qualified professional will take a look. I've written a message to the person who's going to test:
"Pls turn it on, use it normally for 2 hours and put your finger on top of the function keys. If you can keep your finger there for 2-3 mins. without having blisters then return it back to me".
Frankly, I don't expect any good news. I found this article End the Whine – May 20th 2006. Hopefully Apple will take this matter seriously. If the May 20th campaign is successful then I can decide which Mac I want to buy.