Today I attended a seminar called Workplace IT Security & Communications Solutions for Today's Business organized by one of our technology partner. It was an interesting event where several networking vendors presented about the IT Security Technology and the latest and greatest products they've in offer.
Opening speech was given by the Senior Inspector WONG Hung-Fu of Technology Crime Division, Crime Prevention Unit, Commercial Crime Bureau, Hong Kong Police Force. Unfortunately he choose to speak in Cantonese (which I don't understand) but from his slides and later explained to me by other participant he was showing figures of increasing cyber crimes in Hong Kong specially Phishing, Spyware and P2P related crimes.

Sonicwall
They talked about the new generation of UTM (Unified Threat Management) Firewalls they're offering. The UTM Firewalls includes following security solutions in one box:
Real-time Gateway Anti-Virus Scanning
VPN/Firewall
Intrusion Prevention Service
Gateway Anti-Virus, Anti-Spyware
Wireless Security
The new sonicwalls also include DPI (Deep Packet Inspection). From my experience sonicwalls are very cheap compared to other products in the market but are worth their cost.
They also talked about their SSL-VPN about which I'd written earlier. They mainly focused on technology side of SSL-VPN instead of their product and admitted their target is SME and cannot compete with Netscreen or Aventail on features. But price-wise they made it clear that they're the only ones affordable by small companies.

Barracuda
The guy from Barracuda explained how Spams and Viruses are becoming a daily headache to everyone. He also introduced several of their products. Barracuda Spam Firewall, which is a powerful enterprise-class anti-spam and anti-virus solution for email servers. They've sold 30,000 devices and are actively supporting them. The main features of Barracuda Spam Firewall are:
Anti-spam
Anti-virus
Anti-spoofing
Anti-phishing
Anti-spyware (Attachments)
Denial of Service
Other products from Barracuda are: Spyware firewall and IM Firewall

Encentuate
Existing security access solutions e.g. passwords, tokens, digital certificates etc.. as they grow stronger, they make it more inconvenient for end users and enterprises to manage them. So Encentuate was founded to address the need of enterprises to simplify, strengthen and track access across their digital assets and physical infrastructure. They provide Single sign-on and sign-off automation, authentication management and user-centric access auditing and reporting.
TippingPoint
They claimed that TippingPoint is the most powerful Intrusion Prevention System (IPS) in the world and it's performance is unparalleled. TippingPoint security team is providing the vulnerability analysis for SANS Newsletter every week. One more interesting thing in TippingPoint solution is the Digital Vaccine Service that delivers new filters on a weekly or even daily basis for protection against the latest vulnerabilities, exploits, viruses and rogue applications. This means the TippingPoint with Digital Vaccine can protect from many unpatched but known vulnerabilities.

Riverbed
They make your WAN perform like a LAN. The steelhead appliances provide wide-area data service (WDS). Basically, by deploying this product in different branch offices you can access the resources in other branches much more efficiently. They achieve this by acceleration of all TCP applications, packet caching and compression. They demonstrated us a file transfer with and without the steelhead. In a 1Mbps line it took 53 sec to transfer a 10MB file and it took 2.5 sec with steelhead. Quite impressive.

radware
Radware provides a wide range of products for managed service solutions, application access solutions, application security solutions and application front end solutions. Today they mainly presented the APSolute Application Front-End (AFE) Solutions with AppDirector and AppXcel. The combination of these two products enable application availability and continuity, accelerated application performance, guaranteed service levels, application security, IT server infrastructure scalability and consolidation, all in one integrated solution.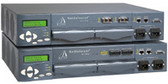 Allot
They had the most interesting products and demo. NetEnforcer and NetXplorer can thoroughly inspect, monitor and control traffic and bandwidth usage on broadband networks, with very detailed reporting and analysis. This is a traffic management solutions for carriers and service providers with total visibility and robust control of both traffic and subscribers:
Traffic Control:
Control P2P applications
Achieve intelligent network visibility
Guarantee unsurpassed Quality of Experience
Mitigate Security threats
Subscriber Control:
Deploy new application-based services
Track behavior and trends
Deliver innovative billing models
Enable self-provisioning capabilities