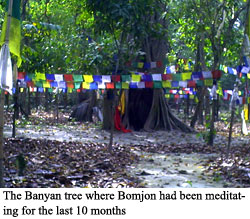 I've been following the news like crazy from yesterday since I read about Ram Bahadur Bomjon's disappearance. Now almost all the major news are reporting the story. While I was writing about this in my previous article Buddha Boy Lost and Found eKantipur.com was reporting that he has been found which appears not to be true. I've read many news and blogs, so these are the facts known till now:
Known Facts:
Ram Bahadur Bomjom disappeared from the meditation site at around 3 a.m. on Friday Saturday and police had been dispatched to look for him.
Eyewitness are saying that Bomjon left the site at around 3 a.m. and moved towards the south. A local resident Sahila Tamang has accompanied him.
Bomjon has left his clothes 40 metres away and the fences surrounding the meditation site had been broken.
There were a dozen volunteers to look after him, but Bomjon left while all the volunteers were asleep.
Bed Bahadur Lama, chairman of the Om Namobuddha Tapoban Protection Conservation Committee, which was established to look after Bomjon's welfare informed the police about his disappearance at around 8 am Friday morning and immediately began the search but have not yet received any information.
Police have rejected reports that the young boy, popularly known as "Little Buddha", may have been abducted.
State-owned Nepal Television reported that Bomjon was found in the jungle near his meditation site within hours of his disappearance and eKantipur.com had a story based on this. This seems not to be true.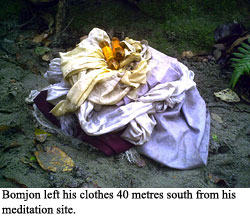 Speculations:
His followers say Ram Bomjan may have moved deep inside the forest looking for a quieter place to meditate.
Some are saying he might return back and resume the meditation process while others conclude that the meditation phase has been finished and the 'enlightened' boy will start preaching.
Some believe that he was abducted by the Maoists or taken away either by his family members or even security forces or gangs from neighboring India.
For whatever reasons he's left the site, the authorities should absolutely make sure that he's safe and not abducted by anyone as some speculate. If they find him meditating somewhere deep in the jungle they better not reveal the site except the confirmation of his safety.
The comments are open let us know what you think!
Note: Photo source ekantipur.com