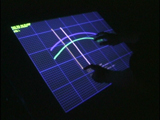 There's an awesome video of the Multi-Touch Interaction Experiments in Jefferson Y. Han's site. Also a discussion in Digg going on if this is same as Apple's patiented touch screen that Engadget's article Apple's patented the Tablet Mac (part II) was talking about?
This is what they'll be doing next:
We'll be working with other, more interesting form factors (both larger and smaller). Wouldn't it also be nice to identify which finger is associated with each contact?