Today when I tried to check United We Blog! for a Democratic Nepal I saw the default blue WordPress theme with some MySQL error. My first thought were, Oh… they're upgrading to wordpress 2.0.1 like me. But I was wrong. After a while when I tried the site again they mentioned they've technical problem and meanwhile recommend you to visit NepalBlogs.com . I got interested on what was happening to this site because the authors of this blog have done a wonderful job of bringing the real situation in Nepal uncensored. This is what I found.
The www.blog.com.np says they've some technical problem and recommends you to meanwhile visit www.nepalblogs.com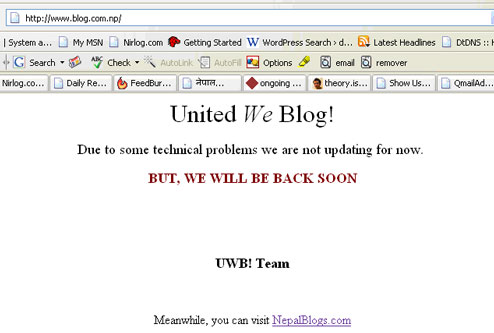 In Nepalblogs.com they've an announcement.
United We Blog! was taken away from us today for a few hours, software was replaced and contents were removed. We do not know why some people force us to think we are important.

They're hinting that the Royal Regime of Nepal has something to do with this outage. Most of the commenters seem to have no doubt and blame the King and his followers. Some commenters however suggest the blog owners to take special care of the site security since this is not the first time they got hacked.
I Googled for any information on "blog.com.np hacked" and found an old discussion thread in SAJHA.COM, What Happened to Blog.com.Np ( I think this was the last time they got hacked).
I hope that blog.com.np will be back soon with fresh news from Nepal and hopefully they'll let the readers know what actually happened this time.